hexadecimal (hex) is a number system that has base which is 16.

use symbol 0 - 9 to represent zero to nine and A - F to represent ten to fifteen.

hex digit represent 4 binary digit ( bits ) or nibble.

hex has 2 operation which are addition and subtraction.
CAUTION
never forget to put '16' after write the digit in order to distinguish between ordinary numbers and hex numbers.
0,1,2,3,4,5,6,7,8,9,A,B,C,D,E,F = 0,1,2,3,4,5,6,7,8,9,10,11,12,13,14,15
if the sum is 16, carry '1' will move to the next digit
example of addition for hexadecimal number
it follow the following rules :-
convert to binary numbers

find 2nd complement

add

convert to hex

drop carry (if have)
if the value is smaller, 'borrow' from the next digit (same as primary school's subtract operation)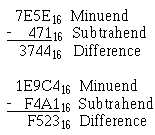 some examples for subtraction for hexadecimal number
below is a video showing us how to make both hex addition and subtraction operation
hope that this will help........
p/s = practice make perfect!
---
Thanks for reading, please leave your comment here.
---